Address
810 Quayside Drive #205
New Westminster, BC
V3M 6B9
Phone: 1-604-544-5045
Directions: Click here
Hours of Operation
Monday – Friday: 9AM to 5PM
Saturday & Sunday: Closed
Reception & Mail Pickup
Monday – Friday: 12PM to 5PM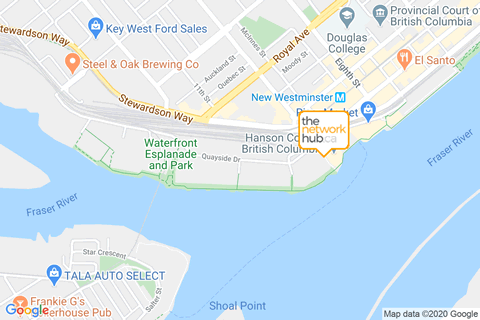 Services
Virtual Office Meeting Room Rental Coworking Space Private Office Workshop Space
---
Contact Form
---
Tour Request Form

---

Why New Westminster?
Simultaneously preserving the legacy of the city's history while moving forward with a fresh take on modern sensibility, New Westminster offers a diverse culture where everyone is welcome. As the former capital of British Columbia, New Westminster is at once home to beautifully restored Victorian houses and historic buildings, as well as towering new high-rise condominiums.
The city's atmosphere can perhaps best be described as relaxed, particularly with its well-renowned focus on healthy living and sustainable practices. Relax at a friendly neighbourhood cafe or share a pint with your mates at a traditional English-style pub. The recently developed riverside park provides a natural respite from the hustle and bustle of urban living, all while being a stone's throw away from practically any modern amenity you may desire.
It doesn't get much more centrally located than New Westminster. Everything from Downtown Vancouver to the international airport, from the United States border to the heart of the Fraser Valley are all within a half hour commute. It's the place to do business, because you can get anywhere quickly and efficiently.
Steps away from the New Westminster Skytrain station, connecting you to almost anywhere throughout the greater metropolitan region, the Network Hub's Downtown New Westminster location can be found inside the newly build River Market. Inside the unique architecture of River Market, you'll be treated to a number of artisan shops and restaurants, including Golden Plate winners like Wild Rice, Longtail Kitchen and Re-Up BBQ. Regardless of the weather outside, you'll always know you'll have great food literally just below our office.
Our New Westminster workspace sits right on the quay, offering sweeping panoramic views of the Fraser River and beyond. It's a terrific place to find the inspiration that you seek, offering a much more nurturing environment than that of a stark and stuffy office with nothing more than views of other stark and stuffy offices. And when you need a break, an urban park with a beach is literally just outside the door.
Whether you simply need to hotdesk for a few hours or you are seeking a more permanent solution, our New Westminster location puts you in the heart of the action.