Address
422 Richards Street #170
Vancouver, BC
V6B 2Z4
Phone: 1-604-767-8778
Directions: Click here
Hours of Operation
Monday – Friday: 9AM to 5PM
Saturday & Sunday: Closed
2023 Closure Dates:
– Monday, December 25 (Christmas Day)
– Tuesday, December 26 (Boxing Day)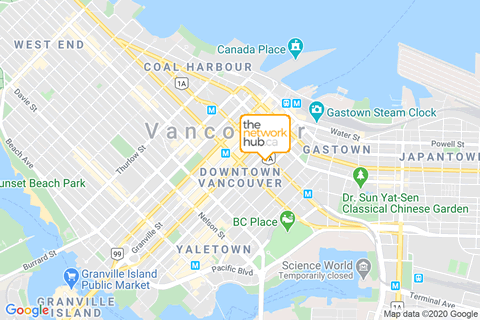 Services
Virtual Office Meeting Room Rental Coworking Space Private Office Workshop Space
---
Contact Form
---
Tour Request Form
---
Why Vancouver?
Where else can you go skiing in the morning, play beach volleyball in the afternoon, and enjoy a spectacular seafood dinner at a remarkably affordable price in the evening, all in the same day? With a majestic mountain range to the north, the gorgeous sea to the west and a diverse multiculturalism that's second to none, it's little surprise Vancouver is consistently ranked as one of the best places to live in the world.
The natural scenery is truly breathtaking. Experience natural green spaces like Stanley Park and Pacific Spirit Regional Park. Hike the Grouse Grind or jog along the Seawall. The temperate climate means you can enjoy the great outdoors any time of year.
Gastronomes will find a lot to love about the stunning world class cuisine the city has to offer, from humble food carts to innovative farm-to-table restaurants to the absolute best in fine dining. Seafood bars and authentic ethnic cuisine can be found throughout Vancouver, from Yaletown to Gastown, Crosstown to Coal Harbour.  The thriving arts and culture scene gives the city an incredible depth that epitomizes the west coast lifestyle.
As vibrant as the downtown core may be, it can also be chaotic and finding a quiet space to concentrate on work can be a challenge. At the Network Hub, you don't have to sacrifice privacy for location. With a Walk Score of 98/100 and a Transit Score of 100/100, it doesn't get any more convenient than our Downtown Vancouver office.
Literally two minutes from the Waterfront Skytrain station, Seabus terminal, and West Coast Express station, our Vancouver office is easily accessible from anywhere in the Metro Vancouver region. Attending a trade show at the Vancouver Convention Centre or a conference at Harbour Centre? They're just five minutes away on foot. Need some fresh air? The waterfront is practically at our doorstep. Hungry? Everything from sushi to kebab to fresh baked goods are all right there.
With a scalable, full service workspace that grows with you, the Network Hub Vancouver location is where business gets done.