Stu Wenschlag of Animation Brewery
It has long since been the philosophy for many people who work at The Network Hub that success in business and "doing the right thing" are not mutually exclusive. This mindset is perfectly illustrated by Stu Wenschlag, Co-owner and Head of Business Development at Animation Brewery. We had the opportunity to chat with Stu about his company, its current project with a non-profit, and his experience at the Hub.
Tell us a little about yourself and how Animation Brewery got started.
In the spring of 2005, I made a call to Glen Schachowskoj while he was back in the Niagara on the Lake area as he was about to launch in to full-on-recluse artist mode out in the Ontario wine country. I urged him, "Hey, come to Vancouver and let's start a cartoon animation studio." Essentially, I just needed him to come here and check out the scene. I knew that if I plied him with gallons of beer and he had a chance to enjoy Vancouver in the springtime, he'd be sold. It worked. We established our first office in East Van on Hastings near Nanaimo Street. It was a dusty 2nd floor studio crammed ceiling high with traditional cartoon animation equipment and supplies like rotating animation disks, tonnes of drawing paper and pencils, video tapes and equipment and all types of visual reference materials. All the walls were adorned with background paintings and character designs we were working on at the time – that kind of thing kept us inspired and was a space for us to exhibit our work. Originally, our clients were other animation studios who were outsourcing pre-production and production services like animation timing (exposure sheets), storyboarding, designs, and animation clean-up (yes, everything was on paper!). Additionally, we spent a lot of time developing our own IP so we could pitch TV series ideas to networks like Teletoon and YTV. Fast forward to 10 years later and our clients are vastly different as is the technology we are using to produce and deploy our work.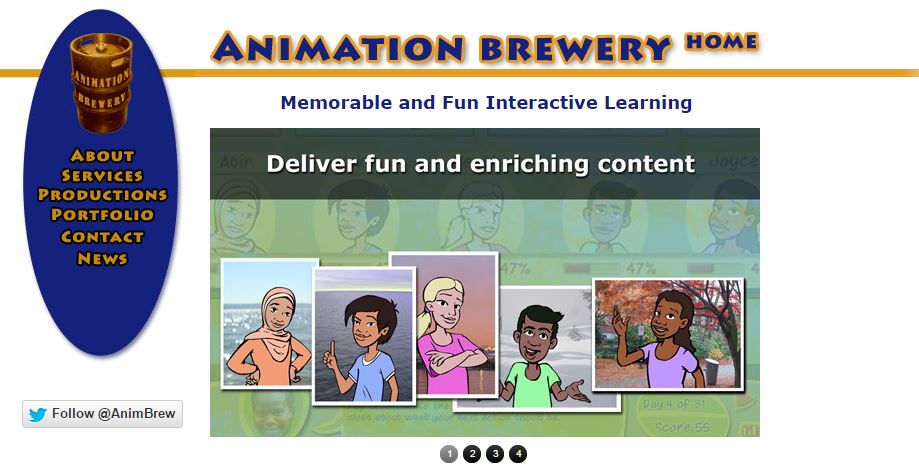 Your current project is for a non-profit organization called the Centre for Affordable Water & Sanitation Technology. What are you doing there?
CAWST, based in Calgary, provides training and consultation to other organizations working directly with people in developing countries who lack access to clean water and basic sanitation. There are all kinds of people behind the scenes there like doctors, scientists and engineers that are validating the content we create for them. Its no walk in the park – these folks are pretty particular. But when it comes to delivering health related content – it has to be right. So our challenge from them is to create animated training materials for end users, on how to use and maintain a very special water filtration structure for their homes called the biosand filter. There is over 2 hours of content, 4 different languages, 3 English versions with different accents, and localized animation, design and music for 6 different regions of the globe. The end-user will choose their region and the content will dynamically and responsively adapt to their region and device.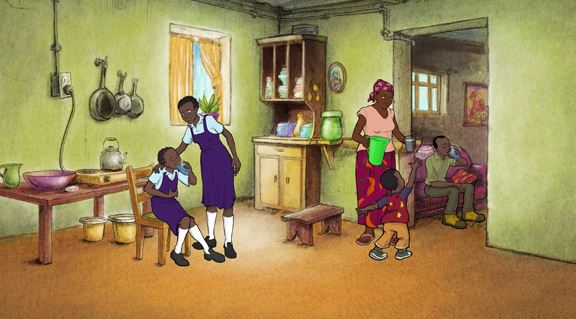 Taking on a globally-oriented project like this can be quite the administrative and logistical challenge. What tools or strategies are you using for project management and team collaboration?
We always make sure there is one single person who is our primary contact on any project, so in the case of CAWST, we are mostly dealing with the project lead in Calgary. She is liaising between her international clients regarding their needs and concerns, and then consolidates that data for us in clear directives and communications. As for our internal tools and strategy, our whole business model has significantly changed from the "studio days" whereas we have no physical studio anymore – the studio setting has been replaced by cloud-based services. Glen works from his office in South Vancouver while I am at our base location, at the Network Hub downtown Vancouver. We connect throughout the day via Skype, email (Gmail), Google Docs, and our various cloud storage accounts including Adobe Creative Cloud. I wish I was a faster, more accurate typist because working remotely does require me to use a lot of writing in place of speaking. However, I mix it up by having daily in-camera scrums with Glen and the team over Skype to connect face-to-face. Glen and I have found being on camera with others reduces that isolating factor one gets when working remotely or from home. The group text chat is also a great way to get messages and feedback from the crew very efficiently. Something relatively new is that we are using the commenting feature in Google Sheets to track particulars about specific assets in the production. It's an incredibly powerful feature. We are also subscribing to Adobe Creative Cloud for Teams which gives us access to the full suite of software and the 100 GB of cloud storage per user. Its been a game changer for us and the possibilities of what we can do with that set are pretty much endless. The challenge then is really to make the most of it in a realistic way without being overwhelmed. So creating a proof of concept for any tough or multi-step technical process is invaluable – it's a rehearsal of sorts that allows you to step through and better manage all that integration.
Where are your team members and collaborators located?
Most recently our team included several freelance artists in Vancouver to Halifax, Medicine Hat and Tokyo! We can work with anyone from anywhere, but we do vet them on their written communication skills, broadband access and speed, and their access and ability using our tools of choice like Adobe CC Software and Storage, Skype, Google Docs, and even Box.com.
Clean water and widespread literacy are things that many of us take for granted. Has this biosand filter project provided a new perspective for you and your team?
Absolutely it has. I learned that a young person living in rural Africa is likely to know much more about drinking safe water and sanitation than me! Since they are involved in a multi-step process to ensure safe water for themselves and their families, they learn about water treatment intimately. As for me, I can turn a tap in Vancouver and get clean safe water – it doesn't make me any kind of expert.
Why do you think CAWST decided on animation over live action for this video project?
We consulted with CAWST right from the outset to determine the most suitable media to reach their end users and concluded that 2D-style HTML5 cartoons were the best fit for a number of reasons. Firstly, storytelling with cartoons is simple and easy to follow, and permits the simplification of complex visuals to illustrate core concepts – the target audience are families with low literacy so the storytelling had to be as clear and simple as possible. Animating in HTML5 meant we could modify or add to the content in many ways – including the addition of deep interactivity. The final 2D animated content is HD quality yet a ridiculously small file size. HTML5 allows us to dynamically replace the visual and audio assets according to which region the user is located in. Finally, much like TV series animation, we were able to re-use assets extensively and stagger and overlap our production processes – hence, produce a great deal in a short time frame and reduce costs.
How did you decide on the animation style and format for both the "story" and "instructional" videos? Is Animation Brewery wholly responsible for the script writing as well?
The content delivery format had to match the content objectives – the Story was meant to inspire and the Instructionals were meant to teach. The "Story" is a 3 1/2 minute narrative video about a family struggling with how to be healthy when the water around them is making them sick. It's meant to be more theatrical in nature and more of an emotional look at the problem. The media format is a straight-up animated video made from raster-based art to allow us the greatest flexibility and control of the images, sound and music. The audience for this video is broader and will be deployed in more channels, such as YouTube, than the accompanying "Instructional" portion. The "Instructionals" are a series of 9 modules that teach the end user the basics of how to use, maintain and clean the biosand filter. They are done in a 2D-cartoony style and deployed as HTML5 cartoons that play in the browser or the app that we will release. And as for the scripts, I wrote them based on the outlines by Lisa Mitchel from CAWST and had some editing help from Glen.
What technical equipment and software suites is Animation Brewery using?
We have some pretty fast computers but it's never enough – there's always room for a wee more RAM, a faster CPU and a bigger hard drive, etc., like any other digital content creator would like. I have a very sweet monitor which is essential for image creation. I also have a wickedly fast Internet connection here at the Network Hub. Oh, and not all animators and designers work on Macs by the way.
How are you handling language and accents for each of the localized videos?
We hired an agency in Montreal called Agile Entertainment to help us cast and record the voice tracks. The team over there was very pro and cast the voice talent for us. I was Voice Director so I was linked in via Skype and could hear all the takes live. The accents and foreign languages were a bit tricky. Agile found us in-house voice coaches for the non-English recordings of French, Creole and Spanish to make sure the performances were following the script and had the delivery we needed. A lot of times I just had to go with my gut on some takes and question some of the takes – sure enough when other people in room piped up with similar comments, it validated my concern.
What has been your experience with The Network Hub thus far? What services have been the most valuable or have had the greatest impact?
We have been using the Network Hub for years as a corporate mailing address. It has been very good for us since we have moved in and out of a few different spaces over the years but it allowed our address to remain stable. As of recently I have a desk here and its been great. There is a lot of respect here between others working here – people are here to work and not mess around. I like that. The Internet speed is smokingly fast, which is very good for Skype and uploads especially. I love that the front desk deals with courier delivery. And, one of the big pluses, it's right around the corner from my local pub, Yaggers on Pender. So when I get fed up of trying to draw a particular hand or some freelancer messed up a build, I can go have a beer and watch some hockey or the Jays.
What other projects has Animation Brewery completed that we may have seen?
We have been working on educational and non-profit videos, games and interactions for several years now, which get a lot less exposure then regular commercial media projects. Most of the projects have links on our website. As for more well-known projects, we recently did a YouTube video for the Alberta Federation of Labour called Expand the Pension Umbrella and hired Linda Cullen from CBC's Double Exposure to voice it for us. It's the second collaboration with Linda now. The first one included her talented husband Bob Robertson, also from Double Exposure, in a pilot animation project we produced several years ago spoofing the Canadian election called GROSS NATIONAL PRODUCT! We have also provided production and animation services for some TV series such as Chaotic, Delilah and Julius, Zigby, and Zixx.
Anything else that you'd like to add?
Just that we have built two very elaborate computer games now and are currently working on a third. I don't see it being the last either. Glen is sharpening his programming chops and I am mastering my vector-based design skills. I see a lot more game development and HTML5 cartooning on the horizon for us. As for the latter, we have been producing some very innovative methods for animating in this emerging format and I am chomping to do a little more R&D to see where it takes us. I think it will be a win for our clients if we could just get the word out and let them know the possibilities of which there are many.