Blonde on a Budget Wins Plutus Award!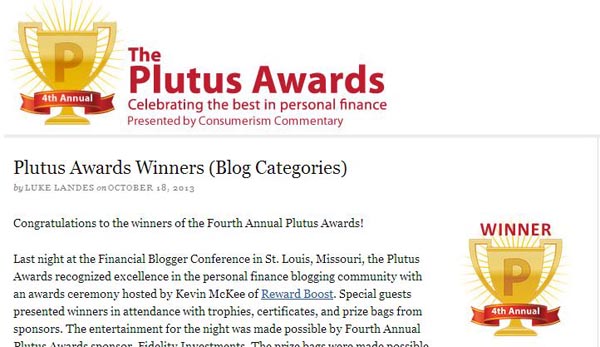 Last night, the Plutus Awards were handed out at the Financial Blogger Conference in St Louis, Missouri. There were several blogger categories where they recognized excellence in each particular niche. For example, there was a category for "best personal finance blog for retirement" and another for "best tax-focused personal finance blog."
And one of our very own came home with some well-deserved hardware. Cait Flanders from Blonde on a Budget won the Plutus Award for Best Canadian Personal Finance Blog, beating out fellow finalists Boomer & Echo, Canadian Budget Binder, Canadian Finance Blog and Modest Money. On her blog, the two-something documents her journey "from being a maxed out, overindulging idiot to becoming a balanced and financially sound woman."
In fact, she was about to get rid of nearly $30,000 of debt in under two years. That's quite the feat and it's a success that should be applauded in its own right. To document this journey publicly through a blog and then to continue the blog to help other people fighting with their own debt and financial demons takes a lot of guts. And Cait has done that very, very well.
We are proud to have Cait Flanders coworking out of the Network Hub campus in New Westminster and we want to offer our hearty congratulations on her well-deserved victory. Raise that Plutus Award with pride and keep doing what you're doing!
---