Briana Tomkinson and Jen Arbo of Hyack Interactive
With Friend Friday, we highlight some of the wonderful entrepreneurs and small business owners who do their thing at The Network Hub. This week, we take a look at Briana Tomkinson and Jen Arbo from Hyack Interactive.
1. Tell us a little about yourself and what you do.
We are a boutique marketing consultancy offering digital strategy and marketing services, as well as web development, communications support (press release writing, blog writing & communications planning), graphic design, and research.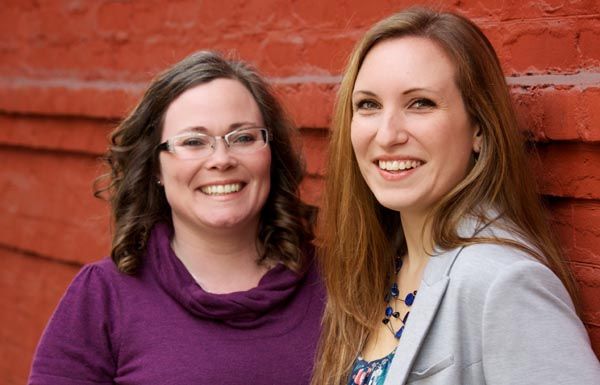 2. What makes your company different or special?
We focus on thinking creatively and we always try to maximize our clients' budgets. We are very detail-oriented and flexible in how we work, which enables us to be effective no matter what the situation – working with small clients or larger ones, working pretty much independently on a project or in collaboration with internal teams or external agency partners.
3. How did you get started?
We met each other through the New Westminster blogging world. In 2008, Briana co-founded a blog called Tenth To The Fraser that focuses on lifestyle content in New West. Very shortly after launch, she reached out to Jen about contributing a guest post, and our collaborations grew from there. We discovered that we not only enjoyed working together, but that our skills were very complementary. After a while, local businesses and other organizations began to approach us for advice about improving their online presence. We decided in late 2010 to officially become business partners, and launched Hyack Interactive. While we continue to do a lot of business in New Westminster, we have also found many opportunities to work with clients farther afield as well, not just in Metro Vancouver, but even as far as Victoria and Calgary.
4. What are you currently working on?
We've just finished a social media strategy for BC Hydro, as well as a marketing plan for the New Westminster Parks, Culture and Recreation Department. We're about to launch a new WordPress-based website for one client, while providing Facebook & Twitter community management services for another. We also have an ongoing relationship with KidsNewWest.ca, a non profit resource for families in New Westminster, as well as ongoing work as collaborators or subcontractors with a few larger marketing agencies to provide specialized support related to digital and social media strategy and campaign planning.
5. What made you decide to cowork at The Network Hub?
We both work from homes, and sometimes the comfort and separation of the coworking space is very inviting for dedicated working time. It's close to home, well-priced, and has also been a great place for us to connect with other freelancers that we might be able to collaborate with. We're also big fans of River Market – it's a great creative space to be.
6. Any advice you have for other entrepreneurs and small business owners?
Never undervalue your work. Don't be tempted to discount your rates. Better to volunteer your time if you feel you want to support a deserving cause. Friends can make excellent working partners and you'd be surprised how skilled your friends might be. Don't overbook yourself – learn time management. Win every client every time you see them. Invest in a good accountant!