DJ Emiko
With Friend Friday, we highlight some of the wonderful entrepreneurs and small business owners who do their thing at The Network Hub. This week, we take a look at DJ Emiko.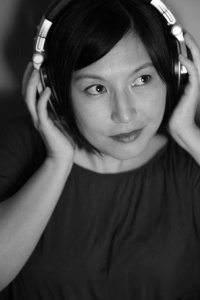 Who are you and what do you do?
My name is Emiko and I am an Event DJ.  I was born & raised in the Canadian prairies, which means I'm Japanese by heritage & Ukrainian at heart.  I spent over a decade in the software industry in development & intellectual property law.  After years of punching that clock, I decided it was time for a change of gears and made the leap into the entertainment industry.  Nowadays I'm DJing events around Vancouver from corporate events & hockey games to weddings & posh parties.
What makes you unique from others in your field?
I really enjoy other people's taste in music.  There are a lot of DJ's that only play what they know and they stay away from other styles of music.  I love picking up new music and finding ways to add it my repertoire.
What kind of music do you listen to?
My musical tastes are kind of ridiculous:  I grew up listening to my parents classical & folk albums. I fell in love with Motown & Soul in the 80's.  My brother got me into R&B while I was getting into Rap, Punk & Jazz as a teenager.  Then there were my raver days (yup, glowsticks and all).  We don't talk about that.  ????  And these days, I listen to a lot of House, World Music and any Indy artists yet to make it big.
What inspired you to get into this line of work?
I've always loved music.  I'd write music as a kid, make mixtapes until the wee hours of the night and pick up any instrument I could get my hands on.  In university after pestering a DJ friend of mine, he let me into the booth to learn his trade.  I was hooked.
What do you enjoy the most about what you do?
I've talked so much about the music at this point that I think I have to mention something else here.  It's just too obvious right? Another aspect of my job I really enjoy is profiling each client's event.  Not everyone is able to articulate what their music needs are, so my job is to ask the right questions.  Each conversation & email snippet reveals a little bit about what the client enjoys and what they want their event to say through music.  And even once I get a base profile built, it often morphs as the event progresses as different people & moods come into the mix.  This part of my job is like the ultimate puzzle… and I love puzzles.
What made you decide to work at The Network Hub?
I am very easily distracted so I needed a workspace that would allow me to focus on the administrative work my business requires, so that I could get back to the much more fun creative stuff.
How has the experience been for you?
I'm very happy with my experience here. The space is beautiful, the North facing windows are great and the location is ideal.  An incidental benefit to working here has been the social interaction – both with the staff & other members.  Everyone has just been lovely.
For more info on DJ Emiko, please visit djemiko.com or follow her on Twitter @DJ_Emiko