Nick Romick of Media Shark
With Friend Fridays, we highlight some of the great people who cowork at The Network Hub. This week, we take a look at Nick Romick of Media Shark.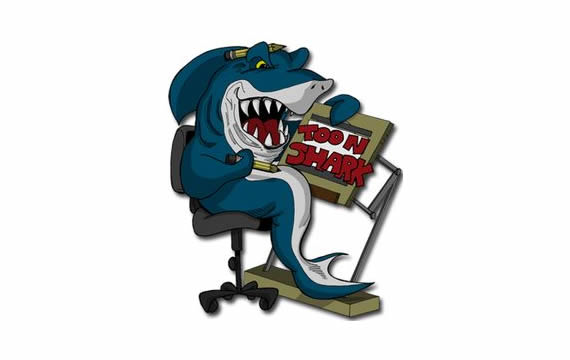 asdfasdf
1. Please tell us who you are and what you do.
My name is Nick Romick, and I am the President and CEO of Media Shark Inc. We do Web Design, Logo Design, Architectural Visualization and Cartoons.
2. Tell us something unique about your company.
Well, Media Shark has a cartoon division called ToonShark (which is my favourite part). ToonShark specializes in both 2D and 3D cartoons. Although they are cartoons, they aren't meant for children – due to their twisted humour. We hope to get these cartoons out to television eventually.
3. What inspired you to get into this line of work?
Well, I have always been into design of all sorts. I started with an interest in Web Design, and that's why I started this company. I have always loved cartoons, video games and 3d modeling, so that's why I branched out into cartoons… Oh, and I love to make people laugh.
4. What projects are you currently working on with ToonShark?
We are actually working on a 3D-generated mockumentary called "Toy Cops" – which takes a deeper look into the gang, drug, police corruption and social problems that occur in the "Toy" Community. It is going to feature "Lego-like" characters and be filmed in a similar style as the television series "Cops" – which follows police officers around during the line of duty. This will have some adult humour and is not recommended for children.
Shortly after the completion of "Toy Cops" we are starting a 2D production, entitled "Frosty's Revenge." This cartoon is a dark spin off the old children's Christmas story about Frosty The Snowman. Heavily inspired by the comic book "Lenore", this video takes a dark turn for the worst, when Frosty the Snowman realizes that spring is coming and he is going to melt.
Details on both of these projects can be found on our website – http://www.toonshark.ca
5. What do you enjoy the most about what you do?
Probably making people laugh and being able to articulate my thoughts and dreams into something other people can enjoy.
6. Where do you see your industry going in the next 2 years?
I plan on putting our cartoons through some animation festivals like 'Spike and Mike's Twisted Festival of Animation', Vancouver Film Festival, Siggraph, YouTube and eventually to television. I would like to see the Web-side of the company become one of the top names in the Vancouver area.
7. What made you decide to work at The Network Hub?
The space in New Westminster is amazing, full of light and the people are awesome. Just the chance to branch out, network and meet new people in (and out) of the tech industry is worth more than I pay in rent here every month alone. I didn't just want office space – I wanted to get myself into the Vancouver entrepreneurial "clique."
8. How has the experience been for you?
Amazing. I've met a lot of people and have set up some good networks. I've also had the chance to meet people in the same industry as me and bounce business ideas off of them. It's really much more than a space here – it's more of a community.