Richelle Giberson of Grow Creative
With Friend Friday, we highlight some of the wonderful entrepreneurs and small business owners who do their thing at The Network Hub. This week, we take a look at Richelle Giberson of Grow Creative.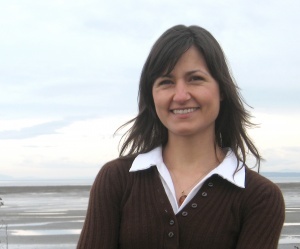 1. Who are you and what do you do?
Richelle Giberson, graphic designer and owner of Grow Creative
2. Tell us something unique about your company.
Grow Creative focuses on working with organizations who care about the impact they have on the environment and their community.
3. What inspired you to get into this line of work?
I've always been an artist and knew from a young age that I wanted to work in advertising and design. After spending eight years working for a national retail chain, mainly as the supervisor of their advertising department, I felt as though I was selling my soul by promoting products and companies I don't personally support. So I left and started my own business as a means to contribute in a more positive way to the business community.
4. What do you enjoy the most about what you do?
The variety of problems we get to solve for clients. Every client is different, and they each have a different set of challenges they need their marketing materials to help them overcome.
5. Where do you see your industry going in the next 2 years?
The industry is really exciting right now, with lots of inspiring, creative design coming out all over the world. I think things will continue along this vein, and will continue to evolve and push the envelop.
6. What made you decide to work at The Network Hub?
I've been in business for seven years and have spent most of that time working from home, alone. I was starting to feel uninspired and lazy, so I thought it would be good to be around other business owners who I could learn from and be inspired by. I had been looking for a coworking space for a year or two and was pretty excited to find out one was opening in New West, which isn't too far away from where I live.
7. How has the experience been for you?
It's been great, I really love my work space with all the windows and natural light.
For more  on Richelle, please visit www.growcreative.ca or follow her on twitter at @growcreatively