Shawn Johnston
With Friend Friday, we highlight some of the wonderful entrepreneurs and small business owners who do their thing at The Network Hub. This week, we take a look at Shawn Johnston.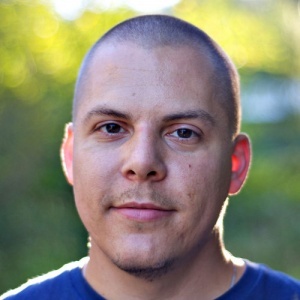 1. Please tell us who you are and what you do.
My name is Shawn Johnston and I'm a freelance web designer and WordPress developer. I also organize a conference called Interlink in June here in Vancouver and a workshop series by the same name. I have 15 years experience in the graphic design industry, spending 8 years in a corporate role and several agency stints before heading out on my own November 2010.
2. Tell us something unique about your company.
Well there's no real company, mostly just me. I have a part-time assistant, Abe Friesen, who helps train my clients on the sites I build for them and supports them as they input their content. There's also a loose network of freelancers that I collaborate with or refer work to. I would say I'm unique in the sense that I offer both web design and web development services, which is a bit unusual. Most people do one or the other. This duality has lead to an appreciation for the necessary collaboration needed throughout a website design process, both by the developer during the content and design phases, and by the content strategist and designer with the developers during the development phase.
3.What inspired you to get into this line of work?
I worked for a few years at an agency whose production schedule was very cyclical. About 2 weeks out of every month we'd be slammed with work, and the other without very much to do. An argument broke out once between two of the guys I worked with about the benefits of CSS vs. Tables/Inline Styles, this was in 2006 or so, right around Dave Shea's CSS Garden was picking up steam. I had never looked into the programming before and with nothing better to do, starting looking into it. I learn best by doing and having real world problems to solve, so I started doing simply charity sites pro bono to teach myself how to program in HTML and CSS. Eventually I built on that to learn how to develop on the WordPress platform and have been picking up bits and pieces ever since.
4. What do you enjoy the most about what you do?
I focus on a lot of small business websites. I like working with small businesses primarily but you work directly with the business owner who is knowledgeable and earnest about the business the website is for. This brings a different sort of engagement vs. say a site for a large corporation. I feel like I'm helping someone directly, helping them to grow their business, helping them be online in a meaningful way.
5. Where do you see your industry going in the next two years?
I think this is a really important time for us, not only as individual professionals, as practitioners even. The industry is naturally moving towards a meeting point, where we comprehend as a whole what many are already talking about. That the ever evolving and complicated process of planning, designing and building websites, or perhaps more aptly web solutions, is requiring an ever more integrated and intertwined process by professionals with a broader and deeper understanding of all the disciplines that must work together. I'm hoping, and doing my part to work towards, that our industry consciously and vocally participates in the realization of this self actualization as an industry, and as practitioners within it.
6. What made you decide to work at The Network Hub and how has the experience been for you?
The Network Hub provides an open and inclusive workspace and takes care of us. Since I could no longer work from home, there was no other place I'd rather be. The staff is accommodating and willing to work with their customers to ensure they have the optimum work space. I appreciate this attention to detail.
You can find out more information about Shawn through his website http://www.shawnjohnston.ca or chat with him on Twitter @ShawnJohnston